Condenser Microphones
BOYA BY-M1000 Large Diaphragm Condenser Microphone
Due to the current situation of Sri Lanka, prices and stocks of the products will be changed frequently, therefore please contact us before placing an order. 0777123445 (WhatsApp)
---
BOYA BY-M1000 is a multi-pattern large diaphragm condenser microphone with 3-Pin XLR output for use with mic preamps, mixers, audio interfaces and video camera. It is ideal for recording podcasts, voiceovers, musical instruments, vocal performances and much more.
This is Genuine Original Product.
Rs49,950.00
Compare
BOYA BY-M1000 Large Diaphragm Condenser Microphone
The BOYA BY-M1000 is a 34mm(1.3″) diaphragm condenser microphone, with sturdy all-metal housing, three selectable polar patterns, -10dB switch design. BOYA BY-M1000 is suited for capturing instruments and vocals in project and professional recording applications, such as singer, songwriters, podcasters, voiceover artists, field recorders, and home studio recordings. Additionally, the microphone offers a 20 Hz to 20 kHz frequency response for accurately reproducing audio signal in a variety of ranges. The microphone uses standard 24V or 48V phantom power, which is supplied through the standard XLR connector.+
BOYA BY-M1000 ideal candidate for recording, broadcast, or vocal and instrument sound reinforcement applications. The cardioid polar pattern is ideal for recording both vocals and instruments, particularly for isolated tracks, but it also works well for live applications. Use condenser mics to get a clear directional recording of studio vocals, voice-over work, choirs, acoustic instruments, strings, piano, and cymbals/overheads.
Selectable Polar Patterns
PATTERN – Cardioid
The cardioid polar pattern is focusing audio capture in front of the capsule, minimizes unwanted ambient sound from the other sides and back of the microphone. This polar pattern is suitable for such situations when you want to pick-up specific sound sources, such as recording vocals, guitar, pianos, stringed instruments, and more.
PATTERN – Bi-directional
Bidirectional polar pattern is figure-of-eight pattern and picks up sound equal sensitivity from two opposite directions, front and back of the microphone, and with low sensitivity from the sides. This polar pattern is best suited for interview, Q&A lecture or presentation, acoustic instruments, and for live recordings of jazz and acoustic groups.
PATTERN – Omni-directional
Its pattern principle pick up sound equally from all directions. Whether the sound resource from the front, the side, or even back microphone will record the signals with equal gain. This polar pattern is very useful in applications where sound needs to be recorded from multiple directions, such as a musical performance where there is a band of musical instruments in front and achoir singing behind.
BOYA BY-M1000 Product Highlights
Gold-sputtered diaphragm.
Broadcast-quality condenser microphone.
Ideal for recording podcasts, voiceovers, musical instruments, vocal performances.
Cardioid, Omnidirectional and Bidirectional polar patterns.
Wide frequency range and ultra-low noise.
Off-axis rejection for clean recordings.
Controlled by low-cut filter switch.
0dB , -10 dB Pad switch.
Electrically balanced output.
24V or 48V phantom power.
All-metal housing.
Included shock mount & pop filter.
Included 3/8″ and 5/8″ thread.
3-Pin XLR plug
BOYA BY-M1000 Package Includes
1 x BOYA Large Diaphragm Capacitor Microphone BY-M1000
1 x Pop Screen
1 x Shock Absorber
1 x Tilting Bracket with 3/8″ and 5/8″ female thread
1 x XLR Cable (3 meters)
1 x User Manual
1 x Full-color Packaging with Foam
BOYA BY-M1000 How to use it
Mount BY-M1000 on 3/8″ and 5/8″ microphone stands or tripods.
Rotate locking knob to adjust microphone fits your position.
Mounted the supplied pop filter in front of microphone.
NOTE:
Please read the product description, product specifications for make sure the product meet your requirement.
Also we recommending to watch product review in YouTube.
Keep your microphone away from dust, moisture, or water.
To clean the housing, wipe with a dry micro-fiber cloth to remove dust.
See our more BOYA Products to Click here.
See This Product in BOYA Official Site Click Here.
Verify your BOYA from official site Click Here.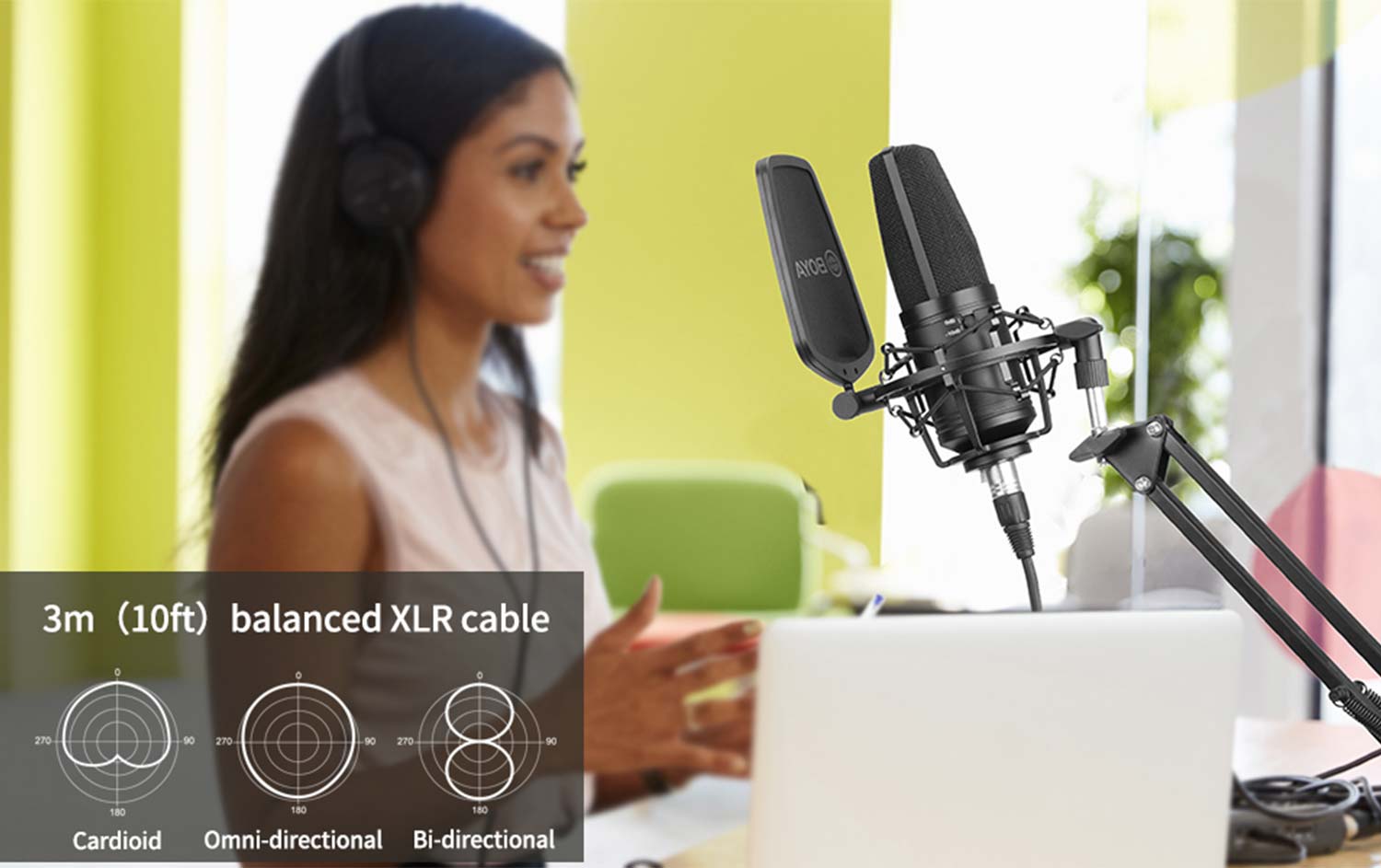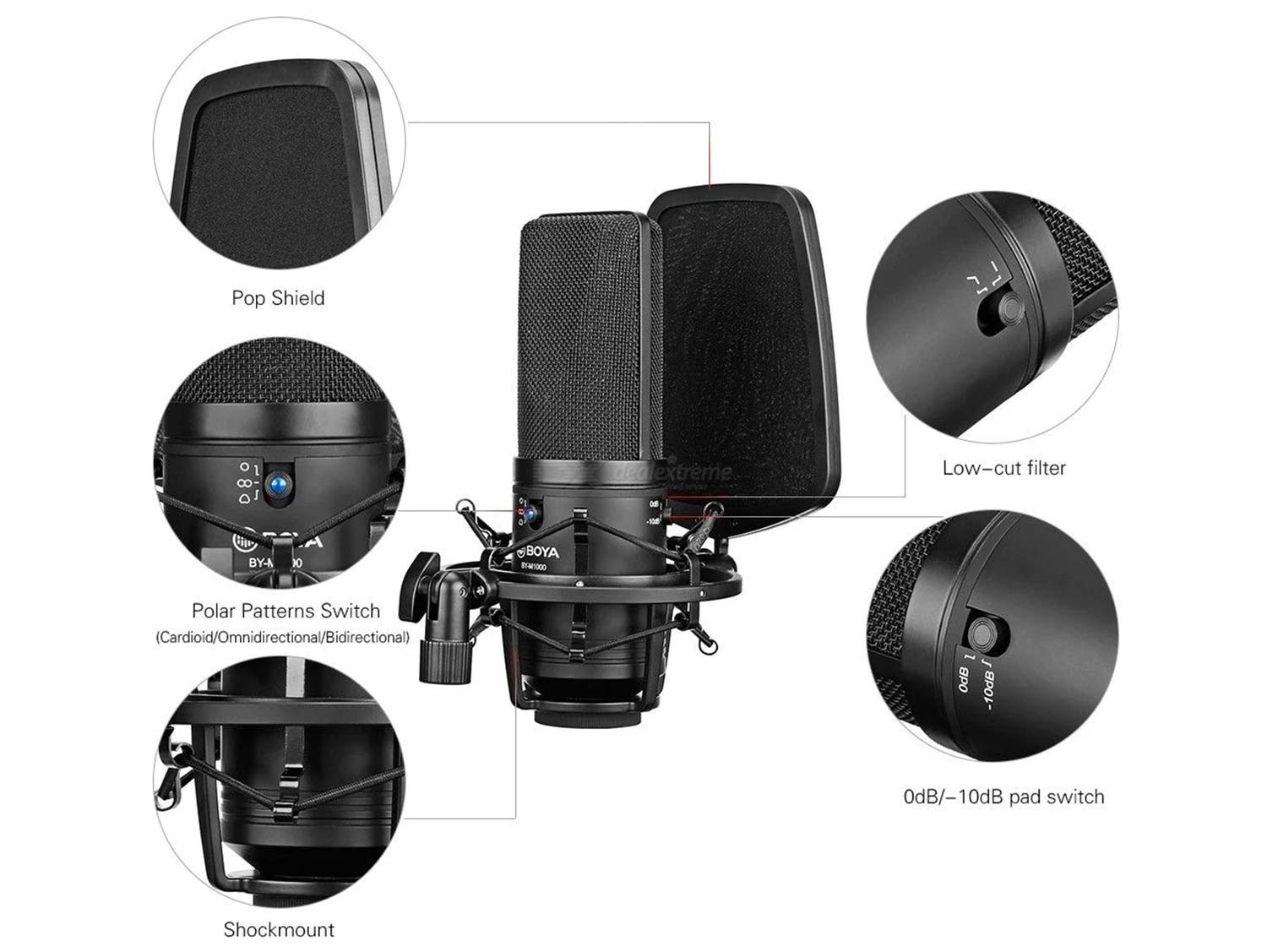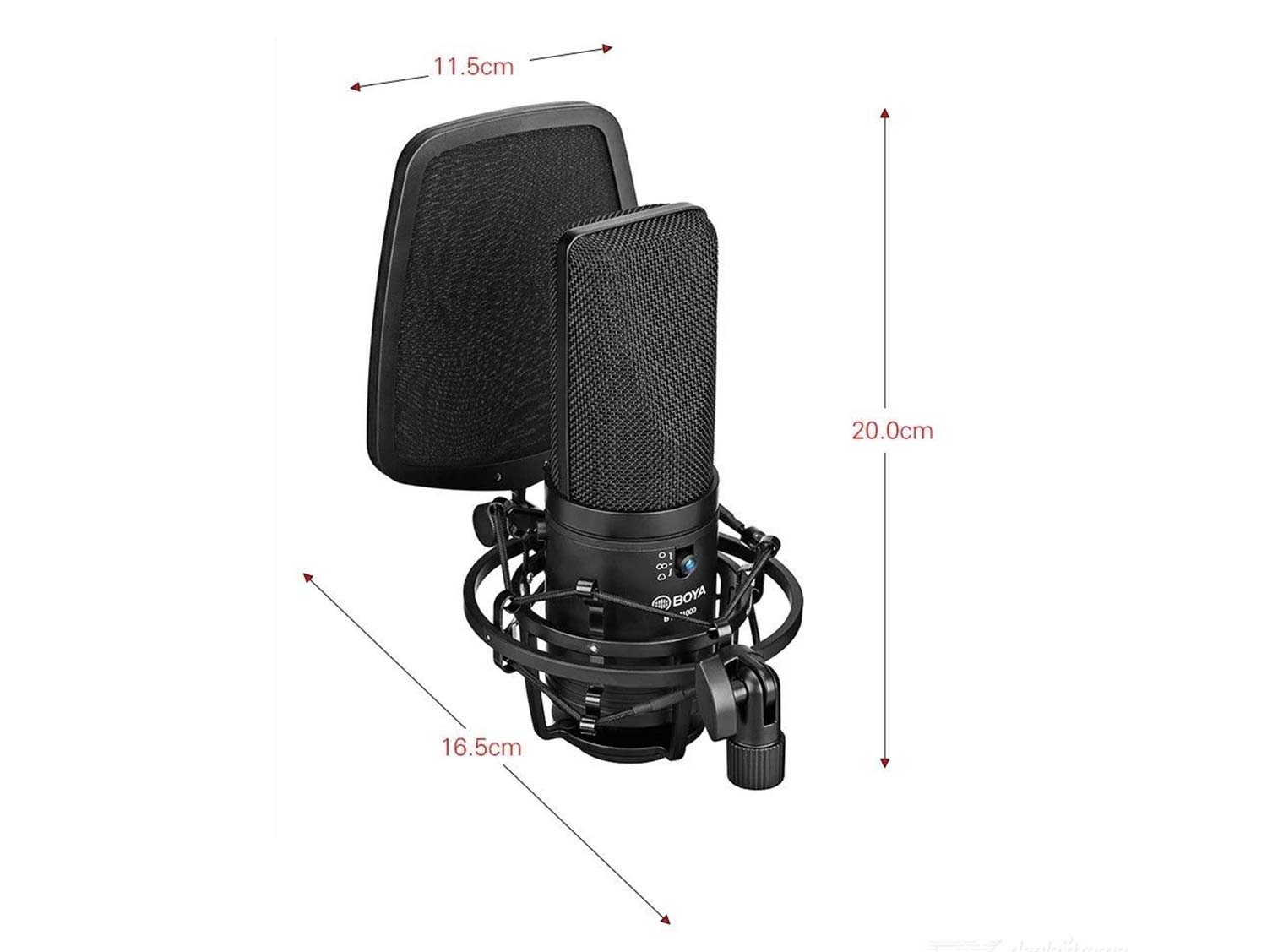 Product Specifications
| | |
| --- | --- |
| Weight | 812 kg |
| Dimensions | 207 × 115 × 185 mm |
| Brands | |
| Model | |
| Product Conditions | New |
| Color | |
| Connector | XLR Male |
| Material | Aluminum Alloy |
| Type of Microphone | Condenser Microphones |
| Polar Pattern | Cardioid, Omnidirectional |
| Warranty | 06 Month Warranty |
| Cable Length | 3 Meter |
| | |
| --- | --- |
| Acoustic Principle: | Condenser |
| Polar Pattern: | Cardioid, Omnidirectional, Bidirectional |
| Diaphragm: | 34mm(1.3″) |
| Frequency Response: | 20– 20,000Hz |
| SN: | 80dB and more |
| Output Impedance: | 200 Ohm |
| Power Requirement: | 24V or 48V Phantom |