Dual Arm Table Mount Gas Spring 17″-27″ Dual Monitor Holder Arm – NB H160
H160 desktop dual screens flexi-monitor mount is built-in durable Gas-strut cylinder to enable to move your screens any directions and height at your wish. Allow you to experiencing the best of ecological interface design for the best viewing position. H160N dual screens desktop LCD mount designed specially for people whom needs multi-screens and multi-tasks to enhance their productivities in office works, finance, design and IT. Added that gravity spring pivot joint design offered effortless titling position to eliminate gray viewing angle.
H160N monitor arm used for LCD monitor can be installed at table edge or grommet installation any where of your worktable. It is a perfect office accessory that enable to swivel horizontally ±180° for sharing information with your nearby colleagues or rotate 90° for showing upside down images. H160N desktop mount is constructed in aluminum alloy and plastic material appearance. Nice looking integrated cable management designed provides a clean, clutter-free look.
■ Durable gas-strut cylinder and conical joints constructed for smooth and stable operation
■ Ergonomic design concept relax your life
■ Integrated cable management conceals inside provide clean neat and clutter-free appearance
■ Compact retractable design to increase your work space
■ Full motions flexibility with all directional effortless adjustment without tools used.
TECHNICAL SPECIFICATION
■ Fits most 17″ to 27″ x2 displays
■ Support load from 4.4 to 19.8 lbs (2-9 kg)x2
■ VESA compliant 75×75, 100×100 mm
■ Upright lift distance 10 " (260mm)
■ Rotation 360° Swivel ±90°
■ Tilt angle +85° to -30°
■ Maximum extension 21.7 " (550mm)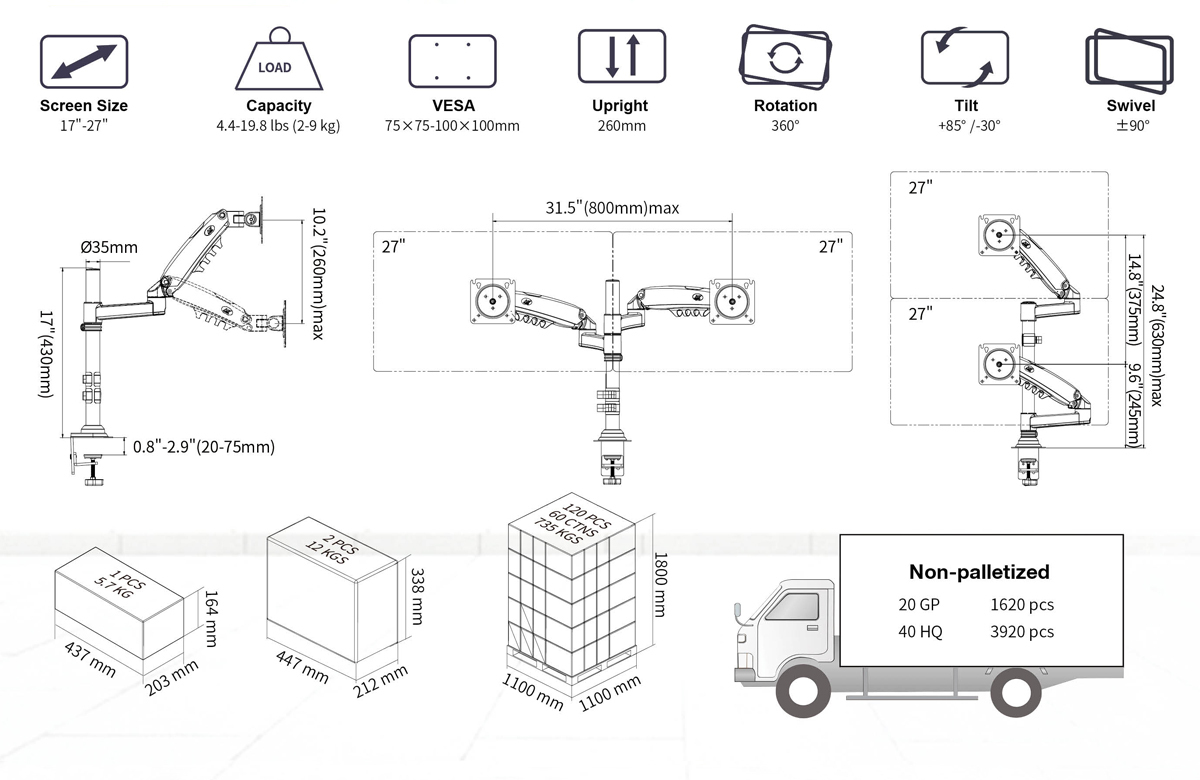 Service and Warranty
No Warranty
Delivery and Setup
We are deliver all of our products in Sri Lanka island wide. Also we do some fitting and setup solutions in Colombo and suburbs. Please contact us for more information 0777186500