The V-STAR Mobile TV Stand for 32 to 55-inch TVs is your go-to solution for enhancing your television viewing experience. Whether you're in the comfort of your home, organizing a corporate event, or setting up a conference room, this TV stand offers the versatility and mobility you need.
Versatile TV Display: With compatibility for 32 to 55 -inch TVs, this stand accommodates a wide range of television sizes and styles. It's perfect for LED, LCD, and plasma TVs, making it a versatile choice for various settings.
Adjustable Height and Tilt: Customize your viewing experience with the adjustable height and tilt feature. Find the perfect angle for your TV, whether you're sitting, standing, or presenting. The stand ensures optimal visibility and comfort for everyone.
Mobility and Convenience: Equipped with smooth-rolling caster wheels, this TV stand is incredibly mobile. Easily move your TV from room to room or within a large space. The lockable wheels provide stability when you find the ideal location.
Cable Management: Say goodbye to tangled cables. The integrated cable management system keeps your wires organized and out of sight. Your setup looks clean and professional, whether it's in your living room or office.
Durable Construction: The V-STAR Mobile TV Stand is built to last. It features a sturdy steel frame that supports your TV securely. This stand is designed for durability, ensuring it serves you well for years to come.
Wide Range of Uses: This TV stand is suitable for various applications, including home entertainment, offices, classrooms, trade shows, and conferences. It's a versatile addition to any space, offering both functionality and style.
Easy Assembly: Setting up your TV stand is hassle-free. The package includes all necessary hardware and easy-to-follow instructions. You'll have your TV ready for viewing or presentations in no time.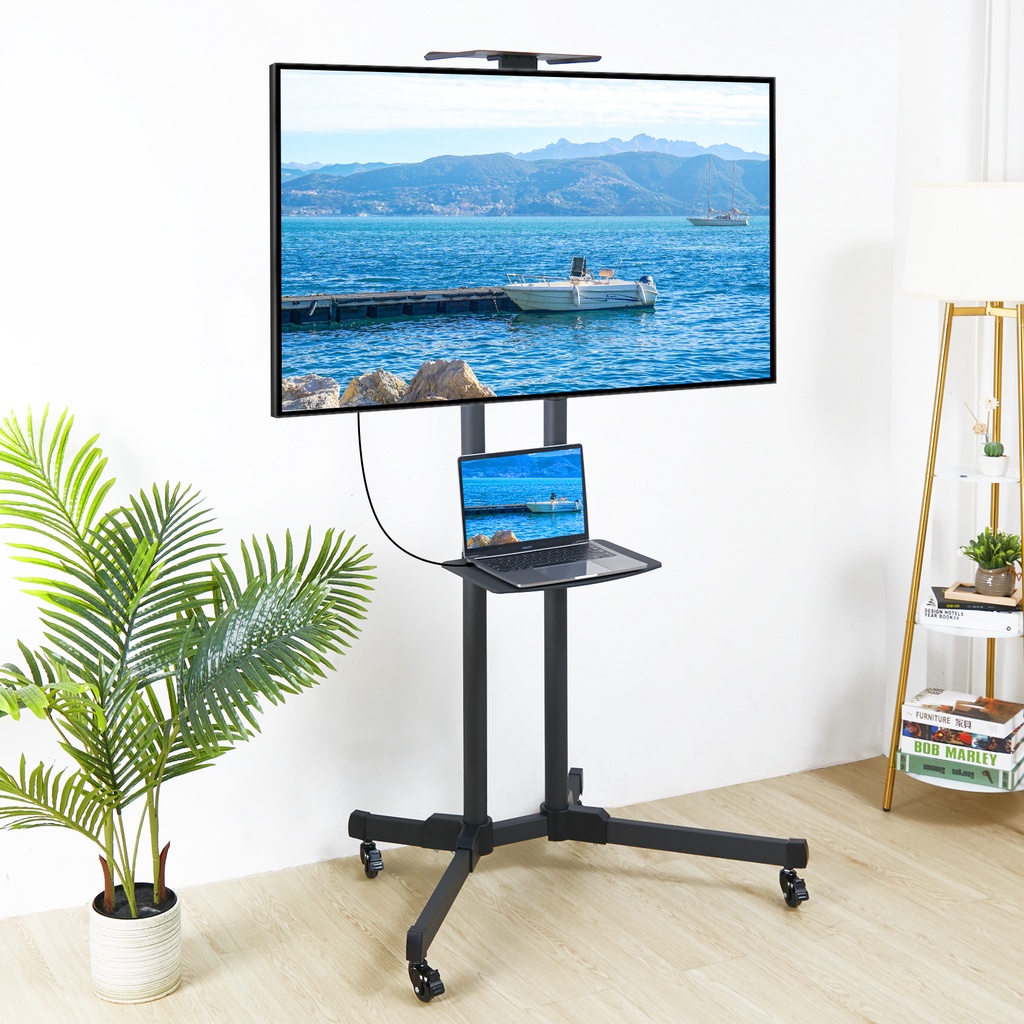 Specifications:
Compatible TV Sizes: 32 to 55 inches
Material: Steel
Height Adjustment Range: [Specify the range]
Tilt Angle: [Specify the tilt angle]
Mobility: Lockable Caster Wheels
Cable Management: Yes
Package Contents:
V-STAR Mobile TV Stand for 32 to 55-inch
Assembly Hardware
User Manual